Discover more from The Lund Loop
Analysis, ideas, and community: Everything you need to profit from the stock market.
Over 8,000 subscribers
I was an early Twitter adopter.
That's something once said with pride, now professed with a sense of lazy shame.
But it's true. I created an account way back in the halcyon days of 2008, excited about where this new and ambitious form of digital communication could lead.
Less than a year later I deleted my account.
And in true Costanza-like fashion, I chalked my departure up to an "it's not you, it's me," sentiment.
Still in it's embryonic form, I didn't see the point, the purpose, the vision of what could be.
Yet, by 2010, as I found more of my friends from what's now called "FinTwit" gravitating to the blue bird, I experienced a severe bout of FOMO, and, with my original account inaccessible due to password amnesia, I created my current account.
They say history doesn't repeat but it rhymes.
And now, 13-years and 20K followers later, I am once again leaving Twitter.
The gory details as to why are inconsequential, but I'll just say this; it's not because of my followers, the vast majority of whom are awesome.
Nor is it because of the trolls, who figured out early on that not only don't I give a shit, but I'm unoffendable, and thus long ago slunk away into the digital morass, searching for those with thinner skin.
It's just that I'm no longer able to dip into the platform originally known as "twttr" without coming away with an overwhelming desire to scrub myself down with a wire brush.
So two weeks ago I changed my Twitter profile, deleted the app off my phone, and resigned myself to no longer checking the streams.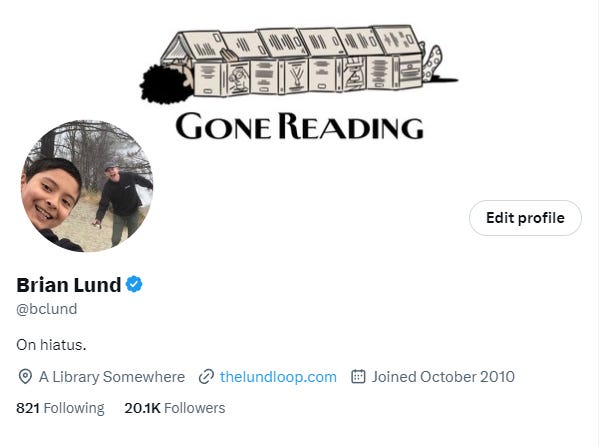 Suffice to say, it's been an amazing two weeks.
And now I've decided to completely abandon Dorsey's folly. Going forward I'll be posting exclusively on Substack Notes.
Well, that's not 100% true.
I will still auto-post some things on Twitter for the benefit of my followers who are not (yet) on Notes, but it will be a unidirectional relationship.
And of course, I will still be hyperactive in The Lund Loop Discord.
So, there you have it.
As David Letterman would say, "ladies and gentlemen, wake the kids, phone the neighbors, Brian Lund and The Lund Loop are now on Notes."
Come join me there.